4. Technical Reports
4.1 Key Stone Project
Outline of the Key Stone Project (Taizoh Yoshino)
The system of Key Stone Project (KSP) is designed to monitor the crustal deformation in the Tokyo metropolitan area every day by the VLBI and SLR techniques with the several mm precision.
[1994] Central station for data processing was built at Koganei in Tokyo. VLBI stations were constructed at Koganei and Kashima.
[1995] VLBI stations was constructed at Miura in Kanagawa. Daily VLBI observations started between Koganei and Kashima. Real time VLBI using optical fiber network is under discussion. Data delivery to the JMA (Japan Meteorological Agency) and CCEP (Coordinating Committee for Earthquake Prediction) was discussed.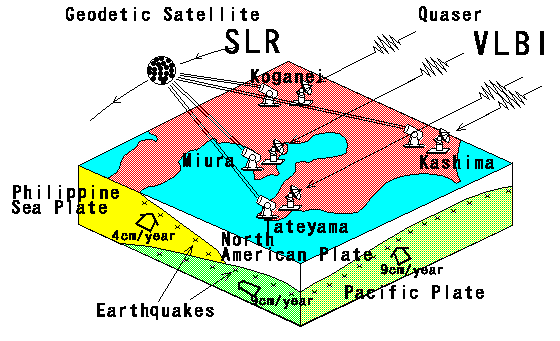 Figure 1. Key Stone Project
---
Return to CONTENTS