Participants of TWAA96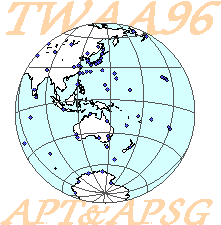 ---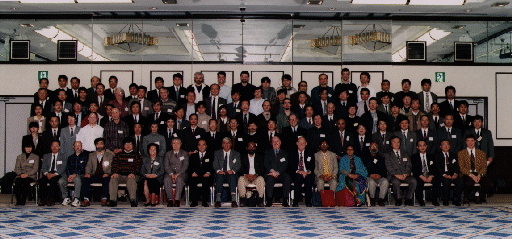 ---
Australia
| Name | Organization | e-mail |
| --- | --- | --- |
| John E. Lauf | British Aerospace Australia | john.e.lauf(AT)jpl.nasa.gov |
| Paul D. Harbison | Canberra Deep Spcae Communication Complex | harbison(AT)reber.cdscc.nasa.gov |
| Marco E. Costa | University of Tasmania | marco.costa(AT)phys.utas.edu.au |
| David L. Jauncey | Australian Telescope National Facility / CSIRO | djauncey(AT)atnf.csiro.au |
| John Reynolds | Australian Telescope National Facility / CSIRO | jreynold(AT)atnf.csiro.au |
| John Manning | AUSLIG | jmanning(AT)auslig.gov.au |
China
| Name | Organization | e-mail |
| --- | --- | --- |
| Ye Shuhua | Shanghai Observatory, Chinese Academy of Scienes | ysh(AT)center.shao.ac.cn |
| Qian Zhihan | Shanghai Observatory, Chinese Acadeny of Sciences | qzh(AT)center.shao.ac.cn |
| Zhu Wenyao | Shanghai Observatory, Chinese Academy of Sciences | Zhuw(AT)center.shao.ac.cn |
| Zhao Junliang | Shanghai Observatory, Chinese Academy of Sciences | jlzhao(AT)center.shao.ac.cn |
| Aili Yusup | Urumgi Astronomical Observatory | uao(AT)rose.cnc.ac.cn |
| Chen Junyong | National Bureau of Surveying and Mapping | jychen(AT)sun.ihep.ac.cn |
Korea
Name
Organization
e-mail
Jung Jae Hoon
Taeduk Radio Astronomy Observatory
jhjung(AT)hanul.issa.re.kr
Minh Young Chol
Korea Astronomy Observatory
minh(AT)hanul.issa.re.kr
Kim Jongsoo
Korea Astronomy Observatory
Russia
| Name | Organization | e-mail |
| --- | --- | --- |
| Irina A. Ipatova | Institute of Applied Astronomy | ipatov(AT)isida.ipa.rssi.ru |
| Alexander E. Rodin | P.N.Lebedev Physical Institute | rodin(AT)rasfian.serpukhov.su |
| Michail Naumovich Kaidanovski | Institute of Applied Astronomy | kmn(AT)ipa.rssi.ru |
| Andrej Michailovich Finkelstein | Institute of Applied Astronomy | gmk(AT)isida.ipa.rssi.ru |
| Igor E. Molotov | Astro Space Center | molotov(AT)dpc.asc.rssi.ru |
| Sergey F. Likhachev | Astro Space Center | slikhach(AT)platon.asc.rssi.ru |
India
Name
Organization
e-mail
Ashok K. Singal
Physical Research laboratory
asingal(AT)prl.ernet.in
Hari O. Vats
Physical Research Laboratory
vats(AT)prl.ernet.in
Sushila Vats
Physical Research Laboratory
Subramaniam Ananthakrishnan
Tata Institute of Fundamental Res.
ananth(AT)gmrt.ernet.in
Tushar K. Das
Eastern Centre for Research in Astrophysics
tkdas(AT)ecracu.ernet.in
Europe
Name
Organization
e-mail
Hayo Hase
IfAG - Germany
hase(AT)wettzell.ifag.de
Leonid Gurvits
Joint Institute for VLBI in Europe
JIVE
lgurvits(AT)jive.nfra.nl
North America
| Name | Organization | e-mail |
| --- | --- | --- |
| John M. Bosworth | NASA Goddard Space Flight Center | jmb(AT)ltpmail.gsfc.nasa.gov |
| Thomas A. Clark | NASA Goddard Space Flight Center | clark(AT)tomcat.gsfc.nasa.gov |
| Ed Himwich | NASA/GSFC/NVI | weh(AT)vega.gsfc.nasa.gov |
| Valery I. Altunin | Jet Propulsion Laboratory | Valery.I.Altunin(AT)jpl.nasa.gov |
| Alan R. Whitney | MIT Haystack Observatory | arw(AT)dopey.haystack.edu |
| Arthur E. Niell | MIT Haystack Observatory | aen(AT)dopey.haystack.edu |
| Paul Scott Newby | ISTS | paul(AT)sgl.ists.ca |
| Wayne Harry Cannon | ISTS | wayne(AT)sgl.ists.ca |
| Georg Helmut Feil | ISTS | georg(AT)sgl.ists.ca |
National Astronomical Observatory, Japan
| Name | Organization | e-mail |
| --- | --- | --- |
| Tetsuo Sasao | National Astronomical Observatory, Mizusawa | sasao(AT)miz.nao.ac.jp |
| Nobuyuki Kawano | National Astronomical Observatory, Mizusawa | kawano(AT)gprx.miz.nao.ac.jp |
| Kosuke Heki | National Astronomical Observatory, Mizusawa | heki(AT)miz.nao.ac.jp |
| Osamu Kameya | National Astronomical Observatory, Mizusawa | kameya(AT)miz.nao.ac.jp |
| Tadayoshi Hara | National Astrnomical Observatory, Mizusawa | hara(AT)miz.nao.ac.jp |
| Takaaki Jike | National Astrnomical Observatory, Mizusawa | jike(AT)miz.nao.ac.jp |
| Zhigen Yang | National Astrnomical Observatory, Mizusawa | yang(AT)miz.nao.ac.jp |
| Seiji Manabe | National Astrnomical Observatory, Mizusawa | manabe(AT)miz.nao.ac.jp |
| Katsunori M. Shibata | VSOP project, NAO | shibata(AT)hotaka.mtk.nao.ac.jp |
| Makoto Inoue | VSOP project, NAO | inoue(AT)nao.ac.jp |
| Seiji Kameno | VSOP project, NAO | kameno(AT)hotaka.mtk.nao.ac.jp |
| Noriyuki Kawaguchi | National Astronomical Observatory, Nobeyama | kawagu(AT)vsop.isas.ac.jp |
Institute for Space and Astronautical Science, Japan
| Name | Organization | e-mail |
| --- | --- | --- |
| Philip G. Edwards | ISAS | pge(AT)vsop.isas.ac.jp |
| Hisashi Hirabayashi | ISAS | hirax(AT)vsop.isas.ac.jp |
| Hideyuki Kobayashi | ISAS | hkobaya(AT)vsop.isas.ac.jp |
| Kenta Fujisawa | ISAS | kenta(AT)vsop.isas.ac.jp |
National Institute for Polar Research, Japan
| Name | Organization | e-mail |
| --- | --- | --- |
| Koichiro Doi | NIPR | doi(AT)nipr.ac.jp |
Geographical Survey Institute, Japan
| Name | Organization | e-mail |
| --- | --- | --- |
| Shigeru Matsuzaka | Geographical Survey Institute | shigeru(AT)gaos.gsi-mc.go.jp |
| Takashi Saito | Geographical Survey Institute | takasi-s(AT)gsi-mc.go.jp |
| Mikio Tobita | Geographical Survey Institute | micky(AT)gaos.gsi-mc.go.jp |
| Yoshihiro Fukuzaki | Geographical Survey Institute | fukuzaki(AT)gaos.gsi-mc.go.jp |
| Nakagawa Hiroyuki | Geographical Survey Institute | hnakagaw(AT)gsi-mc.go.jp |
Universities in Japan
Name
Organization
e-mail
Takayuki Sakurai
STE-Lab., Nagoya Univ.
sakurai(AT)stelab.nagoya-u.ac.jp
Masato Tsuboi
Ibaraki Univ.
tsuboi(AT)masato.sci.ibaraki.ac.jp
Hiroko Shinnaga
Ibaraki Univ.
shinnaga(AT)orion.sci.ibaraki.ac.jp
Takeshi Ohno
Ibaraki Univ.
Tomonari Suzuyama
Kagoshima Univ.
suzuyama(AT)libastro.cla.kagoshima-u.ac.jp
Masaki Morimoto
Kagoshima Univ.
morimoto(AT)cla.kagoshima-u.ac.jp
Teruyuki Kato
Earthquake Research Institute, Tokyo Univ.
teru(AT)eri.u-tokyo.ac.jp
Ryu Ohtani
Ocean Research Institute, Tokyo Univ.
Tsuneaki Daishido
Waseda Univ.
daishido(AT)mn.waseda.ac.jp
Hiroshi Takeuchi
Waseda Univ.
696l0651(AT)cfi.waseda.ac.jp
Naoki Tanaka
Waseda Univ.
694l5120(AT)cfi.waseda.ac.jp
Japan International Science & Technology Exchange Center
Name
Organization
e-mail
Takako Suzuki
JISTEC
Communications Research Laboratory, Japan
| Name | Organization | e-mail |
| --- | --- | --- |
| Yoji Furuhama | CRL | furuhama(AT)nict.go.jp |
| Kuniaki Uchida | CRL | uchida(AT)nict.go.jp |
| Fujinobu Takahashi | KSRC/CRL | fuji(AT)nict.go.jp |
| Taizoh Yoshino | CRL | yosh(AT)nict.go.jp |
| Michito Imae | CRL | imae(AT)nict.go.jp |
| Shin'ichi Hama | CRL | hama(AT)nict.go.jp |
| Hiroo Kunimori | CRL | kuni(AT)nict.go.jp |
| Mizuhiko Hosokawa | CRL | hosokawa(AT)nict.go.jp |
| Hitoshi Kiuchi | CRL | kiuchi(AT)nict.go.jp |
| Toshimichi Otsubo | CRL | otsubo(AT)nict.go.jp |
| Akihiro Kaneko | CRL | kaneko(AT)nict.go.jp |
| Yuko Hanado | CRL | yuko(AT)nict.go.jp |
| Kouichi Sebata | CRL | seba(AT)nict.go.jp |
| Chihiro Miki | CRL | c-miki(AT)nict.go.jp |
| Jun Amagai | CRL | amagai(AT)nict.go.jp |
| Yukio Takahashi | KSRC/CRL | takahashi(AT)nict.go.jp |
| Ryuichi Ichikawa | KSRC/CRL | richi(AT)nict.go.jp |
| Junichi Nakajima | KSRC/CRL | nakaji(AT)nict.go.jp |
| Mamoru Sekido | KSRC/CRL | sekido(AT)nict.go.jp |
| Eiji Kawai | KSRC/CRL | kawa(AT)nict.go.jp |
| Noriyuki Kurihara | KSRC/CRL | kurihara(AT)nict.go.jp |
| Tetsuro Kondo | KSRC/CRL | kondo(AT)nict.go.jp |
| Yasuhiro Koyama | KSRC/CRL | koyama(AT)nict.go.jp |
| Akimasa Motohashi | KSRC/CRL | motoaki(AT)nict.go.jp |
| Mamoru Iijima | KSRC/CRL | iijima(AT)nict.go.jp |
| Katsuya Kawamata | KSRC/CRL | katsu(AT)nict.go.jp |
| Michiko Kawano | KSRC/CRL | michiko(AT)nict.go.jp |
| Akihiro Itoh | KSRC/CRL | aitoh(AT)nict.go.jp |
| Akihiko Sugaya | KSRC/CRL | akisan(AT)nict.go.jp |
| Syouji Odakura | KSRC/CRL | sodakura(AT)nict.go.jp |
| Naomi Shinotsuka | KSRC/CRL | naomi(AT)nict.go.jp |
| Fumiko Iijima | KSRC/CRL | fumiko(AT)nict.go.jp |
| Hisako Noguchi | KSRC/CRL | hisako_noguchi(AT)postman.nict.go.jp |
Companies
Name
Organization
e-mail
Shingo Ozawa
TOSHIBA
Shigeo Kizu
TOSHIBA
Hisao Kawasato
TOSHIBA
Hajime Yamada
TOSHIBA
Takenori Aoyagi
NITSUKI
Kazutaka Ohgi
NITSUKI
Hirohide Takahashi
NITSUKI
Hiroto Sato
KETY
Takeshi Ninomiya
SONY
Mitsushige Tatami
SONY
Eiichi Tanaka
SONY
etanaka(AT)bcmk.sony.co.jp
Toshiaki Wakita
SONY
wakita(AT)sys1.cpg.sony.co.jp
Makoto Nakayama
NEC
nakayama(AT)ant.msc.yh.nec.co.jp
Takaharu Tohma
NEC
Seishiro Yamada
NEC
Wataru Noguchi
YEM
Ayumi Yamashita
YEM
Yasushi Yamashita
YEM
Yoshikazu Saburi
ANRITSU
Masahiro Tsuda
ANRITSU
Hitoshi Nishi
HITACHI
Masataka Itoh
HITACHI
Hiroshi Dewa
HITACHI
Masatoshi Maruyama
HITACHI
Kuniaki Matsumoto
HITACHI
Kiyotaka Hiramoto
MEISEI
Takayuki Morino
Yamatake & Co.Ltd.
Yasuyuki Kobayashi
Yamatake & Co.Ltd.
Masami Yanai
Yamatake & Co.Ltd.
List of people who intended to participate the workshop but could not attend.
Name
Organization
e-mail
Nikolai E. Koltsov
Institute of Applied Astronomy
nec(AT)isida.ipa.rssi.ru
Kazuo Shibuya
National Institute for Polar Research
shibuya(AT)nipr.ac.jp
Farokh Tavakoli Tokhtameshlou
National Cartographic Center, Iran
nccinfo(AT)dci.iran.com
Zhiqian Shen
Harvard-Smithsonian CFA / Shanghai Observatory
zshen(AT)cfa.harvard.edu
Hideyuki Nojiri
CRL
nojiri(AT)nict.go.jp
Tadahiro Gotoh
KSRC/CRL
tara(AT)nict.go.jp
Andreas Reinhold
Institute for Applied Geodesy
ar(AT)leipzig.ifag.de
Viacheslav I. Slysh
ASC, Lebedev Physical Institute
vslysh(AT)dpc.asc.rssi.ru
Hua Su
University FAF Munich, Germany
su(AT)ifen1.bauv.unibw-muenchen.de
Dayton L. Jones
Jet Propulsion Laboratory
dj(AT)bllac.jpl.nasa.gov
Peter H. Sperber
Institute for Applied Geodesy
sperber(AT)wettzell.ifag.de
Zhou Yulan
Purple Mountain Observatory
dmoyl(AT)ba001.bao.ac.cn
Kim Kwang Dong
Korea Astronomy Observatory
Ley Furuya
Ibaraki Univ.
xley(AT)nict.go.jp
Takahiro Iwata
NASDA
tiwata(AT)rd.tksc.nasda.go.jp
Victor Migenes
VSOP project, NAO
migenes(AT)hotaka.mtk.nao.ac.jp
Munetoshi Tokumaru
STE Lab., Nagoya Univ.
tokumaru(AT)stelab.nagoya-u.ac.jp
Debasish Roy
Geological Survey of India
tkdas(AT)ecracu.ernet.in

---
Please send your comments and questions to koyama(AT)nict.go.jp.
Last Update: May 30, 1997
Return to the Radio Astronomy Applications Section's Homepage.