Flexible Factory Project
Security Guide for Factory
Security Guide for Factory (English edition, April 2019)
This document has been developed for people working at a manufacturing site, which adopts wireless communications, in order to raise their security awareness, and to summarize security issues and countermeasures to be aware of at a site.
It reflects the opinions from manufacturing sites and is written to be understandable even for non security professionals/experts to grasp the important points.
We are glad this guide will be utilized and will help to take appropriate security measures to each manufacturing site.
Outline
Title
Security Guide for Factory
Contents
1.Introduction

1.1 Background
1.2 Position of the Guide
1.3 Structure of the Guide
1.4 How to Use the Guide
1.5 Definitions

2.Cyber Security Framework

2.1 IEC 62443 Reference Model
2.2 Zone and Conduit Model
2.3 Defense-In-Depth Architecture

3.Typical Models and Security Risks
4.Security Measures
5.Security Assessment at Worksites

5.1 Check items for Security Assessment of wireless systems
5.2 CSA Action Scenario

5.2.1 Make a list of systems using wireless communications
5.2.2 CSA for systems using wireless communications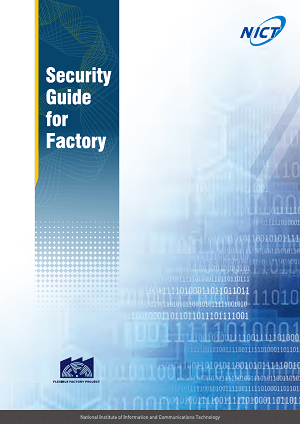 How to obtain the document
The security guide is distributed free of charge.
Please answer the questionnaire in the following page in order to obtain the document.
We are grateful with your kind cooperation.
Links
Flexible Factory Partner Alliance (FFPA)
Inquiry
NICT Wireless Networks Research Center
Flexible Factory Project Representative
E-mail: