News & Info
Access
Contact
EN
JP
News & Information
News List
×
Twitter
View on Twitter
×
Access
Wireless Networks
Research Center
(Yokosuka, Kanagawa)
Headquarters
(Koganei, Tokyo)
Kashima Space
Technology Center
(Kashima, Ibaraki)
×
> Publications > Publications by FFPJ >

Security Guide for Factory
Security Guide for Factory
English edition, April 2019
This document has been developed for people working at a manufacturing site, which adopts wireless communications, in order to raise their security awareness, and to summarize security issues and countermeasures to be aware of at a site.
It reflects the opinions from manufacturing sites and is written to be understandable even for non security professionals/experts to grasp the important points.
We are glad this guide will be utilized and will help to take appropriate security measures to each manufacturing site.
Outline
Title
Security Guide for Factory
Contents
Introduction

Background
Position of the Guide
Structure of the Guide
How to Use the Guide
Definitions

Cyber Security Framework

IEC 62443 Reference Model
Zone and Conduit Model
Defense-In-Depth Architecture

Typical Models and Security Risks
Security Measures
Security Assessment at Worksites

Check items for Security Assessment of wireless systems
CSA Action Scenario

Make a list of systems using wireless communications
CSA for systems using wireless communications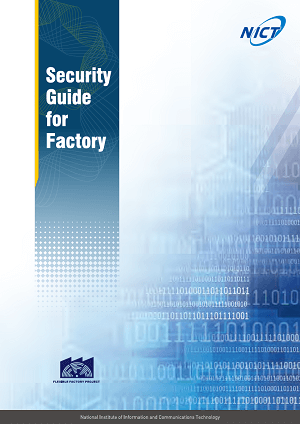 How to obtain the document
The security guide is distributed free of charge.
Please answer the questionnaire in the following page in order to obtain the document.
Links
Inquiry
NICT Wireless Networks Research Center
Flexible Factory Project Team
EMAIL
ffpj-info[at]ml.nict.go.jp
*Please replace "[at]" in the e-mail address above with "@".
SHARE & BOOKMARK
TOP
NICT TOP
Site Map
Site Policy
Copyright © 2019 Wireless Networks Research Center. All Rights Reserved.
MENU
×
TOP
About Us
News & Information
Space Communications Laboratory
Wireless Systems Laboratory
Research
Research Projects
Researchers
Achievements
Awards
Press Releases
Publications
Technology Transfer
Closer to You
Collaborations
Events
Exhibition Facilities
Instagram
Twitter
Access
Wireless Networks Research Center
NICT Headquarters
Kashima Space Technology Center
Contact