News & Information
News List
×
Twitter
View on Twitter
×
Access
Headquarters
(Koganei, Tokyo)
Kashima Space
Technology Center
(Kashima, Ibaraki)
×
HOME

> Research Projects >

Satellite-Terrestrial Integration Project
Research and Development on Satellite-Terrestrial Integration Technology for Beyond 5G
This R&D project has been conducted as "Research and Development of Satellite-Terrestrial Integration Technology for Beyond 5G," which is the Issue 219 of NICT Commissioned Research in Fiscal Year 2020 - 2024.
Project Name
Research and Development of Satellite-Terrestrial Integration Technology for Beyond 5G
Contracting Organizations
Japan Radio Co., Ltd.(Prime contractor)
SKY Perfect JSAT Corporation
The University of Tokyo
Research Period
May 2020 to March 2025
Purpose of Project
Nowadays, the role of satellites in 5G is attracting attention. In particular, the European Union and the European Space Agency (ESA) are promoting R&D programs in Europe. In addition, the standardization of non-terrestrial networks, including satellites and 5G, has been discussed for the first time in the 3rd Generation Partnership Project (3GPP). In Japan, the National Institute of Information and Communications Technology (NICT) held a workshop in March 2019 with related European and Japanese organizations to start studying satellite–terrestrial integration.
Based on these circumstances, NICT and ESA plan to conduct a Japan–Europe joint demonstration experiment. In our opinion, this experiment will be an opportunity to establish the role of satellites in Beyond 5G, which is defined as a mobile communication system in which non-terrestrial networks (including satellites) and terrestrial networks will be more tightly integrated. In Beyond 5G, the use of space will expand considerably, and satellites are expected to become important components of the Beyond 5G network.
The contractors of this project will develop key technologies for Satellite–Terrestrial Integration (e.g., software-defined networking [SDN], Network Function Virtualization [NFV], Network Slicing, and Integrated Network Management) and conduct a Japan–Europe joint demonstration experiment. Through this project, technologies necessary for satellite and terrestrial integration in Beyond 5G will be developed.
Details of R&D Project
By applying 5G network technologies such as SDN/NFV, network slicing, and integrated network management to satellite communications, and by incorporating satellite links into the 5G network as 5G components, it is expected to improve the capacity and flexibility of network selection. This will enable the creation of new use cases and the improvement of conventional ones by utilizing satellite communications in various fields such as
spot communication services to areas without terrestrial networks, such as rural areas;
simultaneous transmission of various service links, such as the transmission of broadband services and operation management information in mobility;
improvement of service sustainability by handover between terrestrial and satellite networks;
rapid restoration of networks by switching between terrestrial and satellite networks in the event of an emergency.
To this end, in this project, the effectiveness and network operability of the network technology will be evaluated through a Japan–Europe joint experiment utilizing the ESA testbed. Furthermore, local 5G backhaul, which is being actively studied in Japan, will be developed by incorporating SDN/NFV, network slicing, and integrated network management technologies.

Project Vision
Research Item (1) R&D for Japan–Europe Joint Experiment
Phase 1: 2020 - 2021

Upgrade Japanese testbed enabled by Open5G Core (version 6) and edge components developed in the ARTES SATis5 project
Develop communication terminals for several use cases
Conduct communication experiments to verify Japan–Europe connectivity (using existing satellites)

Phase 2: 2022 - 2024

Complete the testbed development
Conduct communication experiments and demonstrations targeting specific vertical scenarios and existing and planned satellite capacity that will become available in this timeframe
Use Japan Gigabit Network (JGN) for Japan–Europe terrestrial links
Several domestic use cases will be verified, thereby acquiring technology that meets domestic needs.
Specifically, the following two R&D items will be conducted in Research Item (1). The target transmission speed for the communication experiment and demonstration in Phase 2 will be 100 Mbps per user, and the contractor will prepare satellite components and coordinate with NICT regarding other necessary equipment.
(1-1) Satellite–Terrestrial Connection Demonstration Experiment to confirm the effectiveness and issues of satellite-5G cooperation in Japan.
(1-2) Evaluation of Network Operability through Japan–Europe Connectivity
The effectiveness of interoperability, multi-provider, and multi-area services is assessed quantitatively and confirmed by experiments involving global and seamless connections.

Research Item (2) R&D for Local 5G Backhaul
In Japan, local 5G is being actively studied as an effective way to use 5G. The contractor of this project will conduct research to enable seamless connections between satellites and local 5G. Specifically, they will establish and confirm the effectiveness of SDN/NFV, network slicing, and integrated network management technologies. Each technology has the following technical issues.
(i) SDN/NFV: Development of SDN/NFV to implement traffic classification and priority control functions for satellite communication, which has bandwidth limitations and large delays.
(ii) Network Slicing: Development of a slice arrangement function for effective use of resources by generating slices including satellite components.
(iii) Integrated Network Management: Development of dynamic slice resource management technology that dynamically generates and deletes slices including satellite components.
To solve the abovementioned technical problems, this research will be carried out in the following two phases.
Phase 1: 2020 - 2021
Conduct research on seamless connection between satellite and terrestrial systems that have considerably different link characteristics by newly applying network slicing to satellite communications. Because 5G systems are not available at the start of this project, alternative systems such as private long-term evolution (LTE) and broadband wireless access (BWA) will be used initially. Because of the difference in performance between 5G and these alternative systems, the content of Phase 1 will be limited to the development and verification of the functional aspects of network slicing and the identification of issues.
Carry out an infrastructure design using network slicing that gives high priority to a specific application, and conduct a pseudo-test using LTE/BWA.
Phase 2: 2022 - 2024
By implementing the technology developed in Phase 1, develop and demonstrate the use case of network slicing that gives high priority to a specific application using local 5G and satellites.
Evaluate the functionality of network slicing and its performance in a 5G broadband wireless environment.
Output Targets
The contractor of this project aims to realize the following two items. Regarding (2), the implementation of the Japan–Europe interconnection test will be considered as in (1). At the end of Phase 1, NICT will review the output targets based on factors such as the progress of the project. In that case, the contractor will review the subsequent implementation plan. Furthermore, the contractor will present the prospects for the commercialization of the R&D results in a report to be submitted upon completion of this commissioned research at the end of FY 2024.
Research Item (1) R&D for Japan-Europe Joint Experiment
Demonstration of end-to-end interoperability through Japan–Europe connections in consideration of actual network operations using satellites that cover Japan for use cases related to international connections (assuming that Japan–Europe connections are made by utilizing Japanese and European satellites and wired networks).
Appeal to the market by demonstrating the effectiveness of satellite–terrestrial integration (global connectivity, interoperability, seamless connectivity such as multiple 5G network connections) for end users and related industries.
Experiment involving interconnection between Japan and Europe with the completion of Phase 1 (by 2021)
Examination and demonstration of interconnection between Japan and Europe using satellites with the completion of Phase 2 (by 2024)
Research Item (2) R&D for Local 5G Backhaul
The required functions for slices including local 5G and satellite links are implemented by using SDN/NFV, and the requirements for those functions are verified by function evaluation and communication quality evaluation. Backhaul connection in the event of a disaster is considered as an example of an application.
Infrastructure design using the network slicing technique, in which high priority is given to a specific application and its evaluation in Phase 1 (by 2021);
Priority control technology by network slicing of emergency communication will be established in NSA (non-standalone) and SA (standalone) systems as a means of traffic congestion control during the disaster.
Demonstration of network slicing to support the 5G backhaul connectivity use cases in Phase 2 (by 2024);
As use cases, test evaluations and field experiments in traffic congestion will be carried out assuming emergency communication, real-time high-definition video transmission at the time of disaster, or monitoring video transmission at multiple points.
Planned Schedule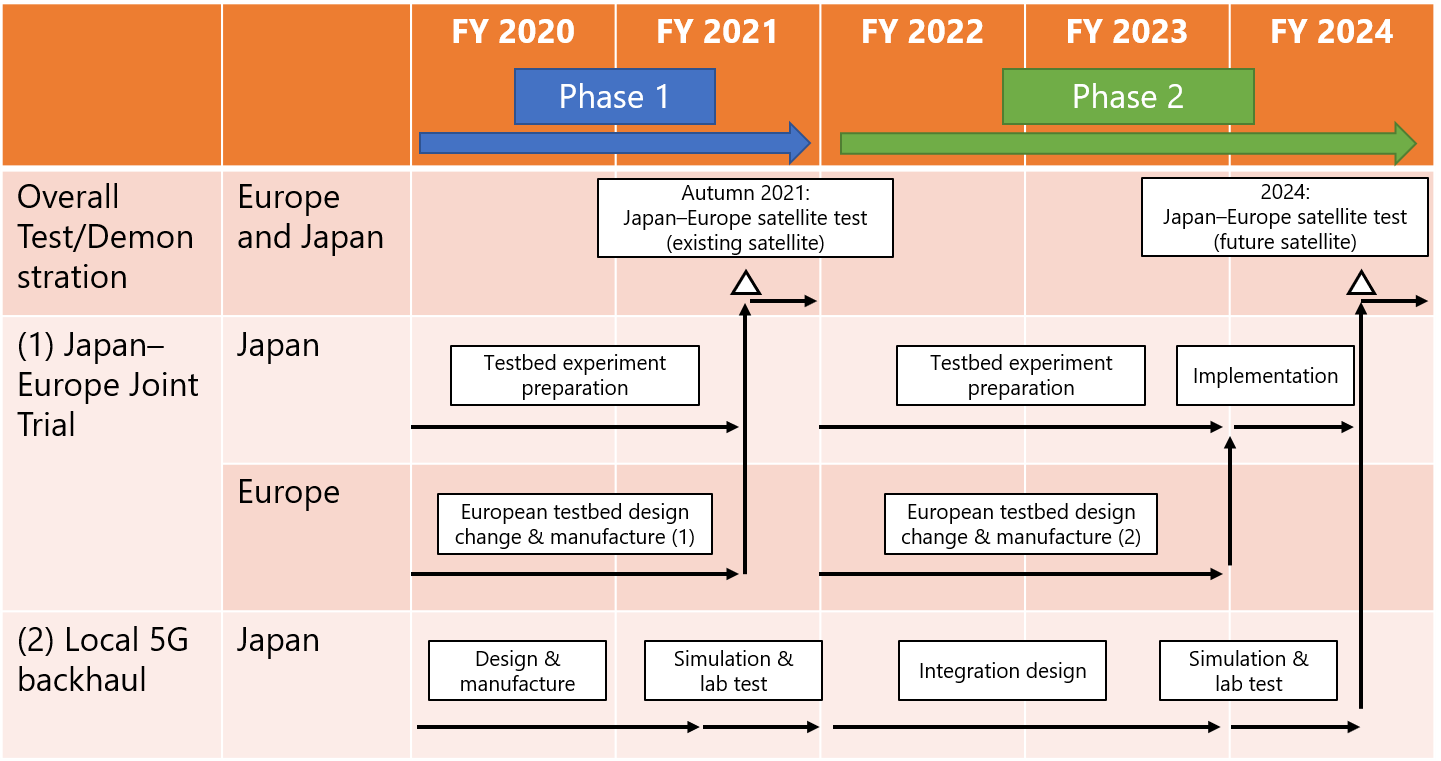 Q & A
We are pleased to share the questions asked from you and our answers with other viewers in this section.
If you have any question about this project, please ask us by using the question submission form. (The link button is shown at the end of this section.)
Before sending us your question, please note and agree with the following conditions;
We will answer only to the questions related to this project and the contents of our answer will be the one that can be disclosed.
The answers will be posted on this page. We will NOT reply directly to you by e-mail.
Your personal data will not be disclosed.
Related Link
●  Report Issued by the Study Group on the Integration of Satellite Communications and 5G/Beyond 5G
(published by NICT)
TOP
NICT TOP
Site Map
Site Policy
Privacy Policy
Twitter
Instagram
Copyright © 2019 Wireless Networks Research Center. All Rights Reserved.
Go to Top
MENU
×
TOP
About Us
About Us
News & Information
Research Projects
Research Projects
ETS-9 Satellite Communications Project
Satellite-Terrestrial Integration Project
Researchers
Publications
Achievements
Achievements
Press Releases
Publications
Videos
Technology Transfer
Closer to You
Closer to You
Collaborations
Employment
Events
Exhibition Facilities
Instagram
Twitter
Access
Access
Wireless Networks Research Center
NICT Headquarters
Kashima Space Technology Center
Contact
Links
Wireless Networks Research Center
Wireless Systems Laboratory
Kashima Space Technology Center